MEGAWEAPON is getting ready to leave the nest, and the team is looking for dedicated, enthusiastic players to help with testing. If that sounds like it might be you, here's what you'll need to do.
Step 1: Sign up
Head over to the MW Testing Hub and choose "Join". You'll be prompted with a questionnaire which asks a few questions about you and your experience. Please don't provide any personally-identifiable information here – no need for real names or your work email address or anything like that.
After completing the questionnaire, you'll be prompted to verify your email address. Be sure to check your spam folders if it doesn't show up right away. Once verification is complete, your application is done!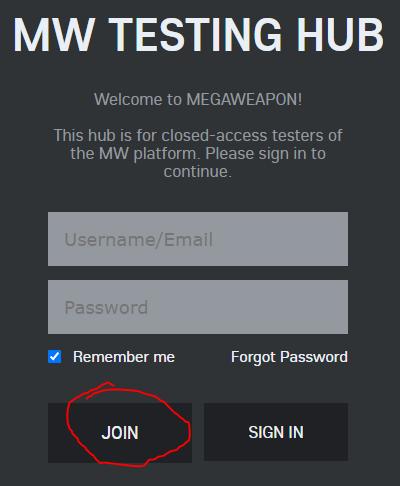 Step 2: Hang tight
The team will be evaluating applications and approving them on an as-needed basis. Selected applicants will receive an approval email at the address they registered during signup.
As the Closed Alpha Testing phase progresses, the player count will gradually increase. More players will be needed to fill those slots, so if you aren't tapped right away, just chill and wait for that email.
Step 3: RSVP for test matches
The MW Testing Hub includes a calendar of Events, which is where test sessions will be scheduled. These Events will show the date and time of the session, and allow players to RSVP for them.
Please RSVP for any sessions that you want to attend!
This is how the team will know approximately how many people to expect at each match.
Step 4: Show up in Discord
Matches will be coordinated and conducted in the MEGAWEAPON Discord server. Please show up on-time and ready to play. A download link to the latest build will be provided on the day of the session, and instructions will be given in the "brief / debrief" channel.
Step 5: Gib your foes
Here at MEGAWEAPON, we strive to provide an innovative and engaging environment for reducing your fellow players to scattered piles of pixelated scrap. In particular, please peruse and enjoy the selection of firearms, explosives, melee weapons, and incendiary devices provided for your use.